Trello is widely used and has long been a great tool for project management and tasks management. Not many other tools have the same easy-to-use user interface like Trello's visual Kanban boards. It is flexible, collaborative, and into each tiny cards you can pack a lot of useful information.
People mostly use it as a tasks management tool for big projects at work. Trello is more than that – it's not just for work. This piece of software can be turned into anything, you can even use it organize your whole life. To achieve just that, you can  customize your personal board to be a powerful day-to-day to-do list. In this article, I'll walk you through my current Trello workflow that I have been using and found effective.
The Basic Board Setup
Lists
With some setups, I have an advice that you should create only 3 - 4 main lists. More lists = less focused.
My basic lists setup looks like the following, note that you can set up these list or modify as you like and can easily use with free plan without any power-ups or automations applied:
Projects & Goals: This is a list that you keep your big goals and big projects in. I often use it as a reference so I can create my tasks later based on my goals and keep things on track.
Recurring: Cards that I use on a daily basis. Without automation and powerups then I can just Cmd + C, Cmd + V (yes, you can copy and paste your cards from list to list using keyboard shortcuts) to my today tasks list.
To-Do: This list contains things that I'll do in the future, or low priority that can be done later.
Today Tasks: I drag cards from To-Do to this list if I have to start working on it today or I will continue doing it today. I try to update this list everyday in the early morning so I get a picture of what I'll do that day.
Done: Things are done.
Labels
You can setup labels as you like, but I tend to setup 3 labels:
Daily: Daily things that needs to be done, usually things in the Recurring list will have this label.
Personal: For personal tasks.
Work: For tasks that needs to be done at work.
With this setup, I can easily scan what needs to be done at work and what are my personal things.
Cards
Card is the most important thing in your board. Try to fill in the shortest & the most detailed way possible. The title should be clear enough for you to know what to do, and put links, attachments, medium in your card description.
For example, with the tasks "Update morning standup minutes", I put my labels on as Work and I leave the link to the Google Docs so I can open it immediately when I start working on that task.
Checklists
Checklists are something people don't take seriously. You should put up checklists for your tasks if you can break it down into smaller tasks or things that need to be done.
Trust me, it will keep you on track and most of the time you won't have to think about what to do next to complete your tasks when you already had everything planned in advance.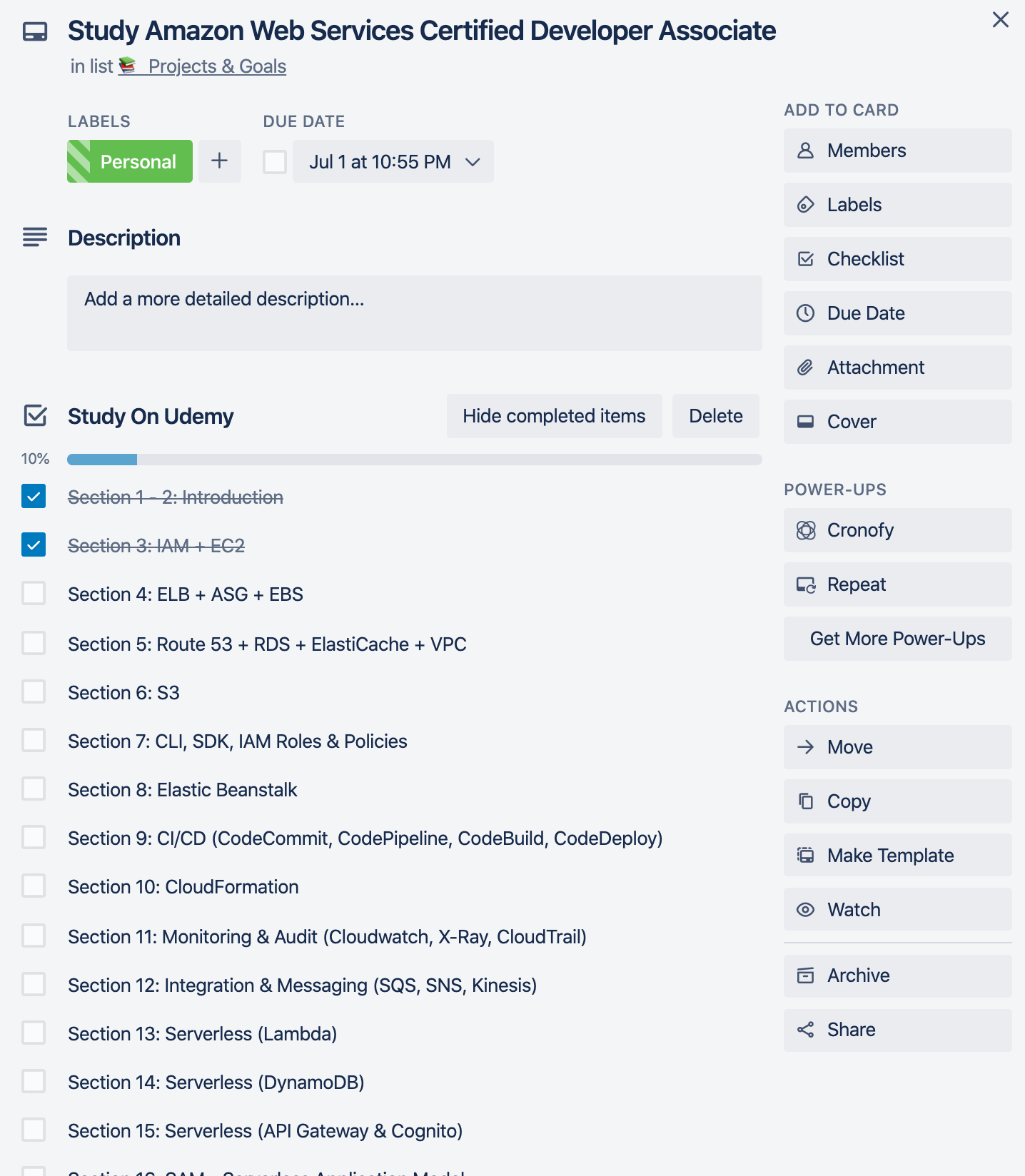 Background
Choose whatever you like, what inspires you, what calms you down. It depends on your taste.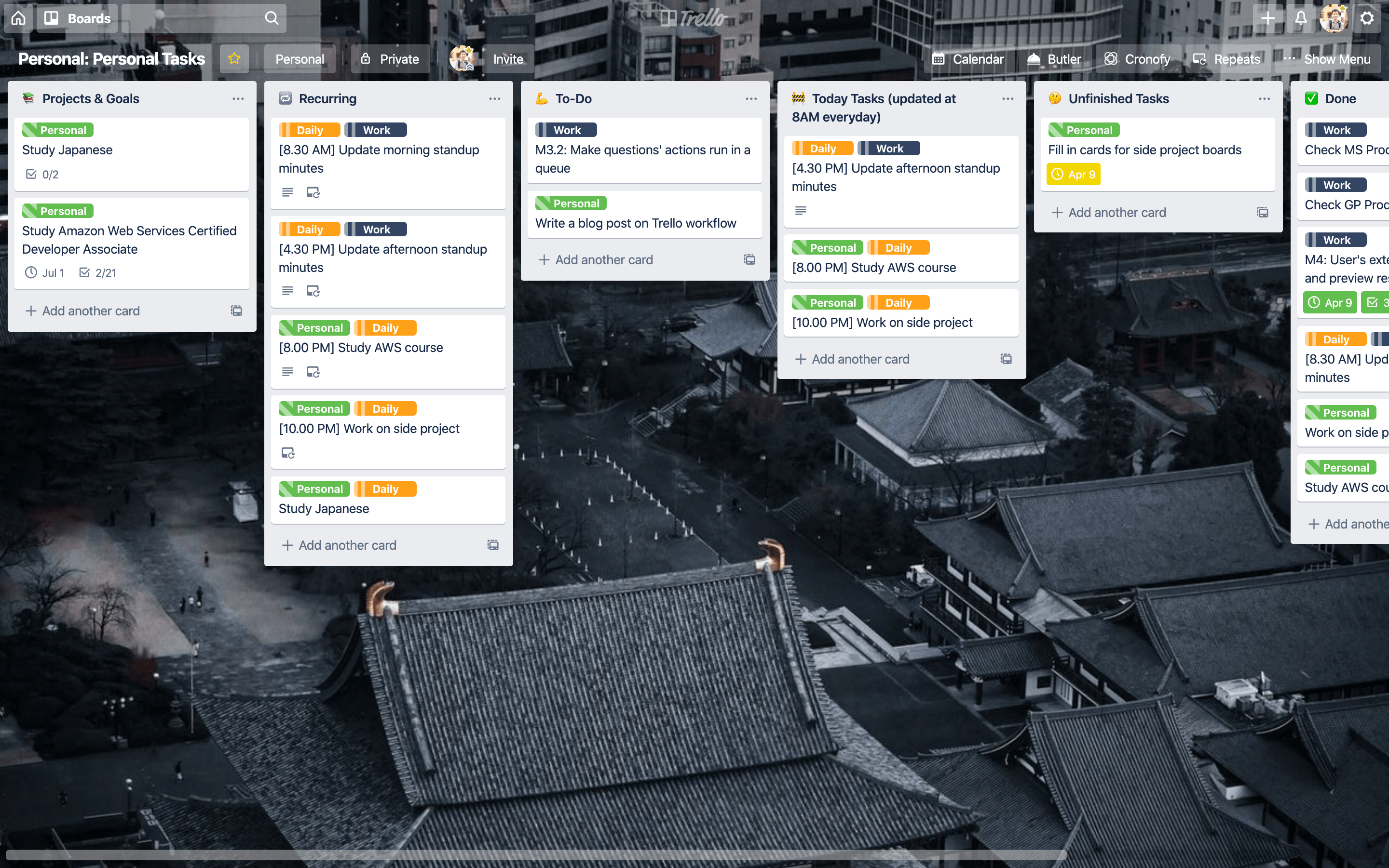 Level Up Your Boards With Butler Automation And Power-ups
You might have noticed a new list in my setup, some buttons and strange icons. I'll introduce you with them right away.
Power-ups (1 Free for Basic Plan)
With the basic plan, you have 1 power-up that you can add to your board. These are some free & helpful power-ups you can add:
Card Repeater: This thing will help you to automatically copy a recurring card to a list of your choice at a specific time. I use it to copy my tasks from Recurring list to my Today Tasks. ⏱
Time In List: This powerup will give you a quick overview of how long a card is in your board so you can decide what to do with it. 🔁
Calendar: This 📅 will give you a quick calendar view of your tasks.
Cronofy: Helps you to 2-way sync your tasks with your calendar (Google Calendar or iCal). You can even edit your tasks' due on your calendar and it'll be updated on Trello. Pretty easy, right?
With Gold or Business plan, you can add some more. I'm using Trello Gold and I'm using Card Repeater, Calendar and Cronofy.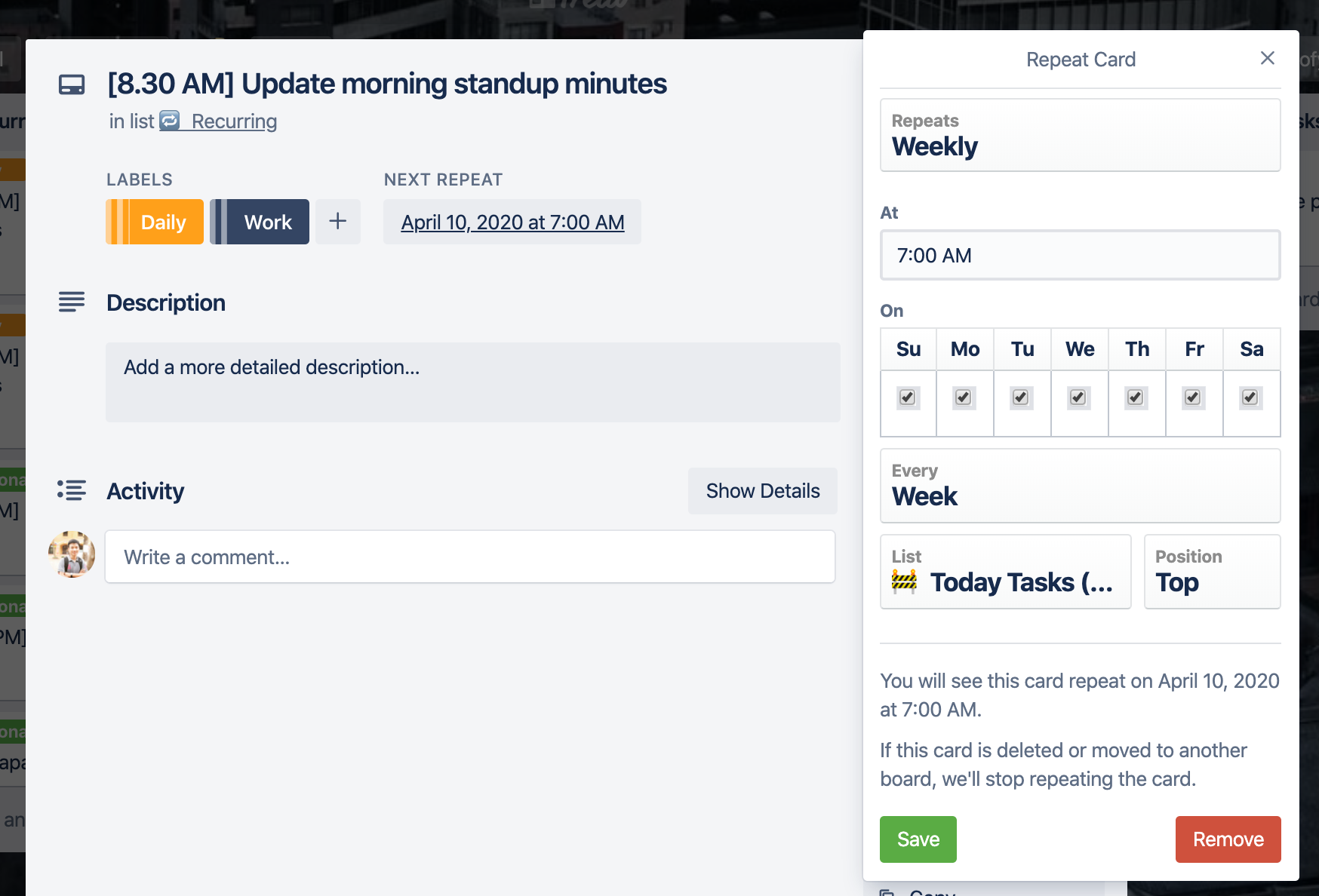 Automate With Butler
Butler is a new feature in Trello. It helps you to automate your boards using easy-to-setup rules. Butler provides you with these features:
Rules: You can easily setup rules, for eg. When a card is added to "Done" list, check all the items in checklist and archive it. Sounds pretty cool, right?
Card Button: Create a new button on your card to do certain things, like assigning that card to you, make it completed, send to reviewer.
Board Button: Create a button that appears at the top of your board and it can do magic to your boards, such as "Monday Setup" - archive all cards in Done and pick some random cards in To-Do to Today Tasks.
Calendar: Create commands that will be executed on a specific schedule. For example, I can tell Trello to automatically archive all my cards in Done on Monday.
In the below paragraphs I'll share with you some of my Butlet setup that I am feeling comfortable with:
Rules (Free Feature)
when a card is moved into list "✅ Done" by anyone, check all the items in all the checklists on the card, mark the due date as complete, and sort the list by time in list descending
With this one after I drag something to Done it will be automatically sorted by date so I can take a look at it in the following day and fill in my daily standup minutes what I've done yesterday.
Calendar (Paid Feature)
every monday at 4:00 am, archive all the cards in list "✅ Done"
With this rule I, it will automatically archive all the cards in my Done list while I am sleeping so I won't have to worry about archiving myself. And fresh start for new week!
every day at 5:00 am, move all the cards in list "🚧 Today Tasks (updated at 8AM everyday)" to list "🤔 Unfinished Tasks"
I love this one as in the morning I can know what I did not finish yesterday, and that I can move it back to my Today Tasks list.
You're Powered Up
I hope that after reading this article, you have learnt something new to boost your personal productivity today 🚀 using Trello as a day-to-day To-do List.
I believe that many people are having a better workflow setups then feel free to share it!
Cheers!